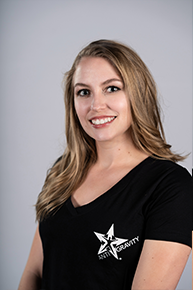 Daniela has spent the past 10 years perusing her passion as an aerial artist. Her professional training began in 2011 in Orlando, Florida. After her internship at Disney World, she journeyed back to Mesa, AZ and continued her training with Experience Arts School (EAS) which later became Altitude Aerial Arts & Dance Co. From 2012 till 2014, Daniela gained performance experience with major shows such as Budweiser FIFA viewing party in Las Vegas and managing the grand opening of the Tanger Mall in Glendale, AZ. Craving more entertainment opportunities, Daniela decided to return to the theme park capital of the world (Orlando, Florida) in 2014.

Debuting her performance skills with AntiGravity in Halloween Horror Nights in 2015, Daniela knew this would become her long-term performance home. This initiated a variety of professional opportunities within the AntiGravity Company including achieving an AG Aerial Fundamentals certification, teaching aerial classes as a master instructor, choreographing seasonal shows, assisting in a innovative rigging projects, and performing as a Principal Aerialist at countless corporate events. She has had the privilege of performing at Imagine Music Festival in Atlanta, GA, Sunset Music Festival in Tampa, FL, and a filming of a national infomercial for Sheex (performance bedding company). She has grown within AntiGravity, and has become the Operations, Front Desk and Work Study Program Manager, making Daniela an integral part of AntiGravity Orlando's Executive Team.
Currently, Daniela is working towards her certification in Occupational Therapy Assistant where she will develop her understanding of the body and mind on a different level. She believes in life-long learning and encourages others to do the same. Daniela is known in local circles as one of the friendliest, professional and charismatic person you will ever meet.